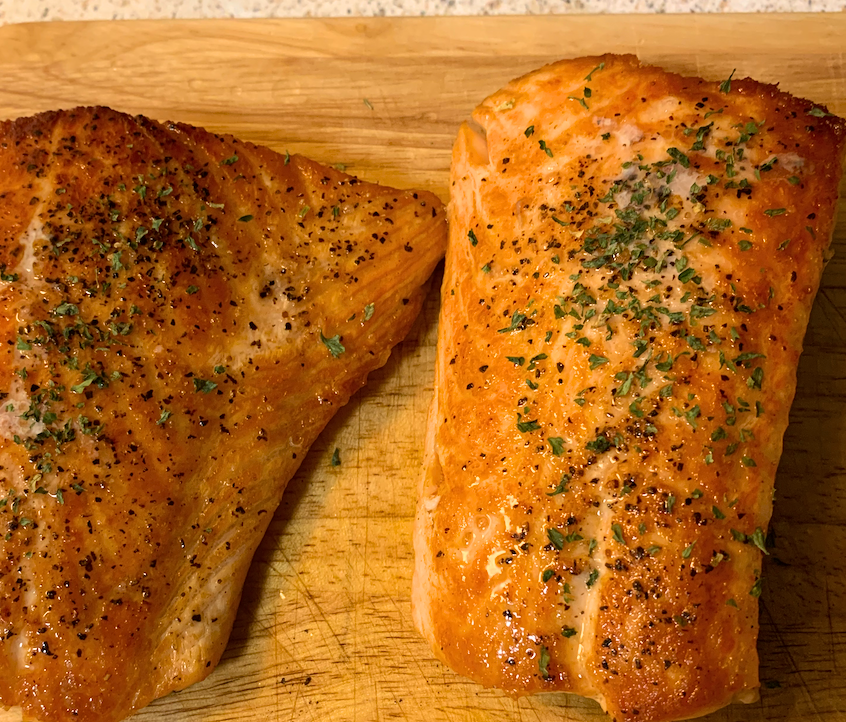 How to Cook Perfect, Chef-Quality Salmon Every Time—in Only 5 Steps! 
Salmon is one of my favorite healthy proteins, but it took me forever to discover that the best technique for cooking it was actually one of the simplest! I was overcooking and undercooking salmon dozens of hopeless attempts after another, hunting for the best method to achieve that restaurant-quality golden-brown crust with a flaky, irresistibly juicy center.
The winner? Ditch your oven mitts and forget about baking (unless you're planning to incorporate a marinade). The cast iron skillet method beat them all—and the best part? You can master it in only five simple steps.
What are the Health Benefits of Salmon?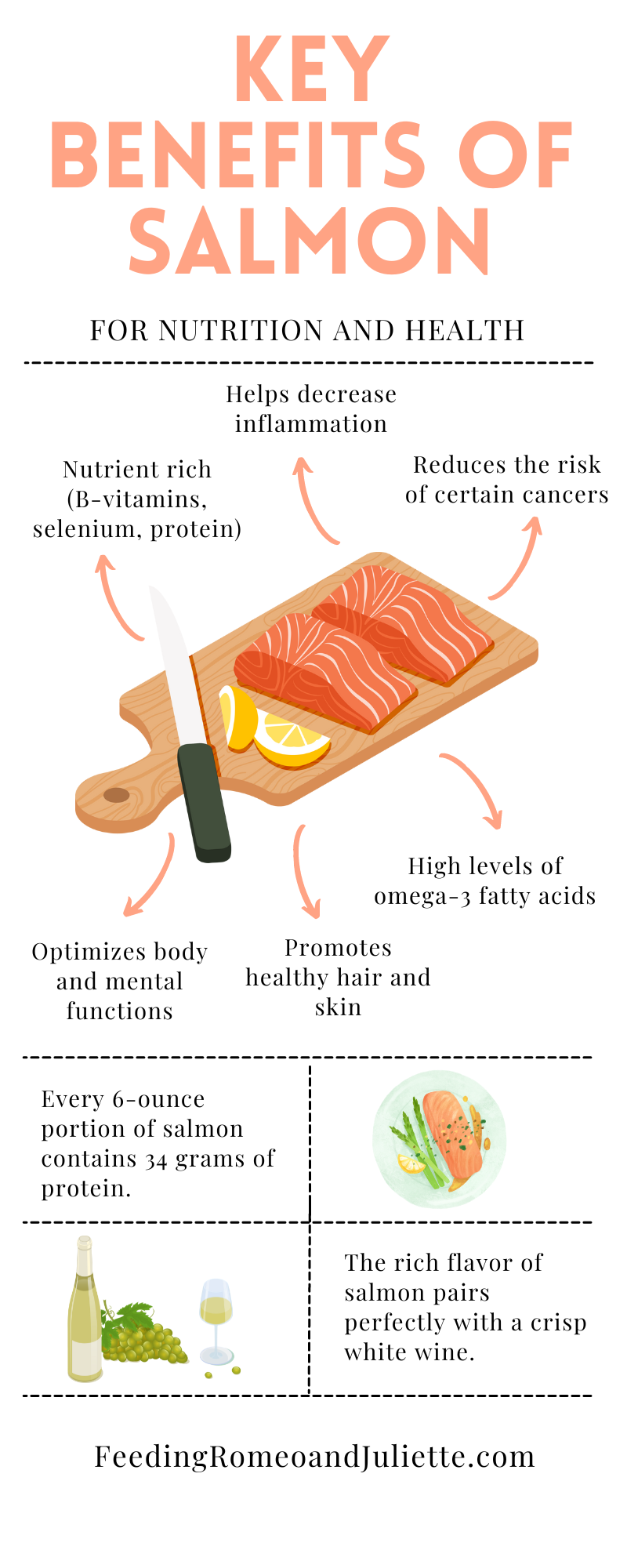 As a natural-born hater of most fish or anything that tastes like the ocean, I spent most of my life avoiding salmon, but after being introduced to its pleasantly non-fishy and rich flavor, I quickly became a convert and learned of its incredible impact on our health.
Widely considered one of the planet's superfoods, salmon provides a plethora of health benefits besides a delicious, decadent flavor. Salmon is extremely dense in nutrients, containing high levels of niacin, B-12, omega-3 fatty acids, selenium, and other beneficial antioxidants. While also low in calories and diet-friendly, every 100 grams of salmon contains 25 grams of protein, which is crucial to supporting essential functions for our health!
RECIPE: EASY PAN-SEARED SALMON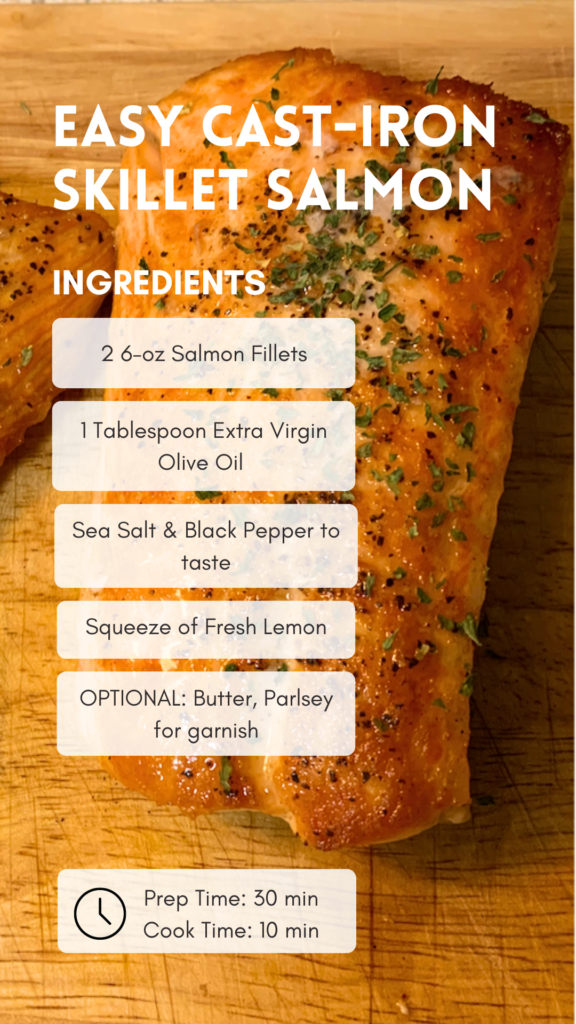 TIME:
-30 minutes prep (mostly just letting the fish come to room temperature)
-10 minutes cook time
-5 minutes rest
EQUIPMENT:
-Cast Iron Skillet (Any nonstick skillet works fine, but the cast iron lends itself to that beautiful, golden color and makes everything taste extra delicious.)
-Recommended: Digital food thermometer—this is a game-changer and life-saver! Trust me!
THE ESSENTIALS:
-2 6 oz salmon fillets with skin on—you can remove the skin if you prefer, but I love a crispy, golden salmon skin. (Feel free to use a smaller portion of salmon, but I favor a heftier serving.)
-Extra Virgin Olive Oil
-Sea Salt
-Pepper
-Squeeze of fresh lemon
OPTIONAL:
-Butter for extra decadence, but honestly, it tastes so buttery without out!
-Fresh or dried parsley for garnish
KEY BENEFITS:
OMEGA-3 FATTY ACIDS: helps decrease inflammation, assists cell functions, reduces the risk of cancer, promotes healthy skin and hair
B-VITAMINS: help repair DNA and reduce inflammation, optimize brain and nervous system health
SELENIUM: promotes bone health, helps with thyroid issues, helps protect against cancers
PROTEIN: crucial for maintaining muscle mass, optimizes body and mental functions, and protects immune system and bone density
THE METHOD:
TIP: Remove your salmon from the refrigerator at least 30 minutes prior to cooking to allow it to come to room temperature. This will ensure a better, more even cook for your protein and no cold center!
1. Generously season both salmon fillets with sea salt and pepper and allow them to come to room temperature.
2. Heat roughly 1 tablespoon of olive oil in a cast iron skillet over medium-high (lean toward high, but be familiar with your stove—not all are created equally!) for roughly 4-5 minutes until the pan is hot and the oil is starting to slightly simmer.
3. Place the salmon skin side up (flesh down) and cook without disturbing for roughly 4 minutes or until the color browns.
4. Flip the fillets over and reduce to medium to prevent the skin from burning. Cook for another 5 minutes or so, until the internal temperature of the fish reaches around 125-130 degrees F for a salmon cooked "medium." I personally prefer slightly rare, so I check my temperature after around 4 minutes and take it off when it reaches 120. Your protein will continue to cook and rise in temperature as it rests!
5. Transfer to a plate and drizzle with a squeeze of fresh lemon. Rest for a few minutes—five if you can resist temptation. Voila! Golden, perfectly crispy, flaky salmon.
Optional: Garnish with fresh parsley and/or add a dab of butter for extra decadence.
Pair with a vegetable side and healthy grain for a balanced meal!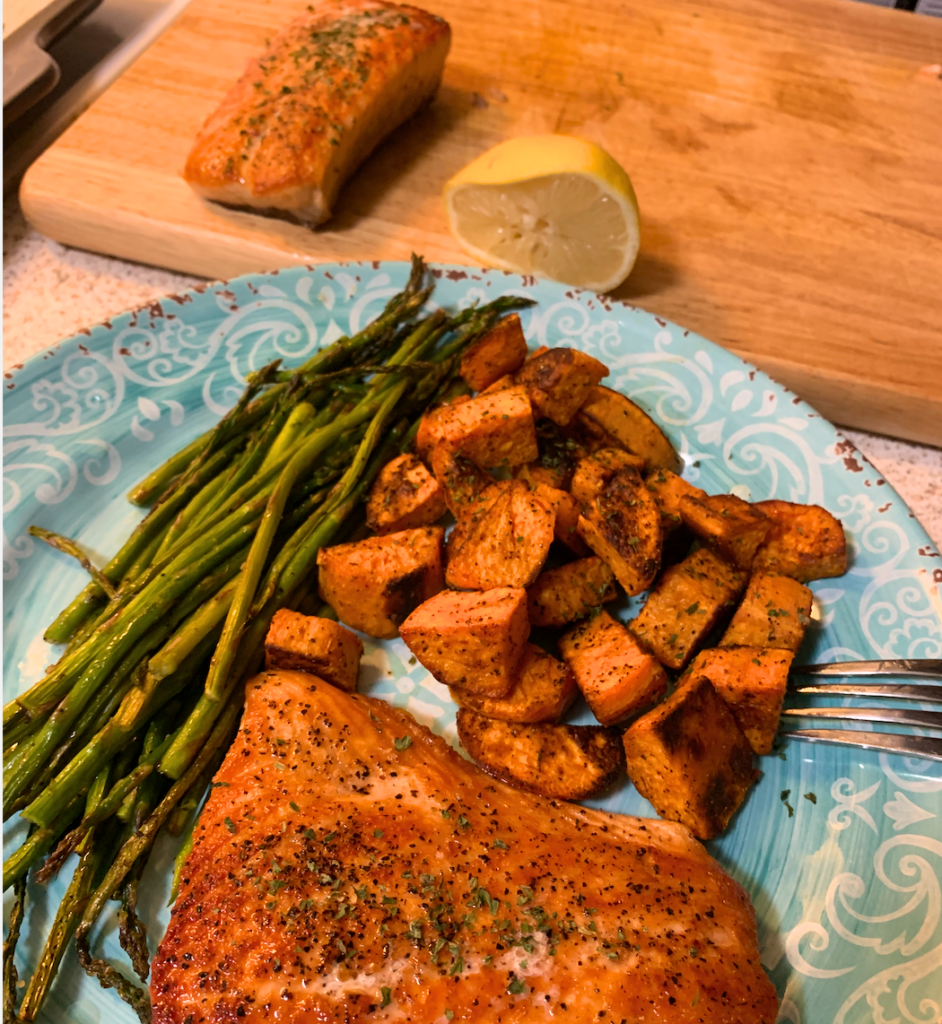 Suggested wine pairing: dry white wine with crisp, tart notes such as a refreshing pinot grigio
Romeo's Review: 5/5 paws…however, note that dogs should not eat seasoned or raw food. Make sure it's tolerable with your dog's stomach by testing a bite-sized portion your first time!
He occasionally enjoys a teeny portion of thoroughly cooked, non-seasoned salmon, but his regular kibble is salmon-based, so he reaps all these health benefits on a daily basis. Omega-3 Fatty Acids work wonders for dog coats, especially curly-haired doodles like Romeo. In case your dog sneaks some troublesome crumbs off the floor (beware of garlic!), check out Romeo's tips on what you can feed your dog in case of an upset stomach.