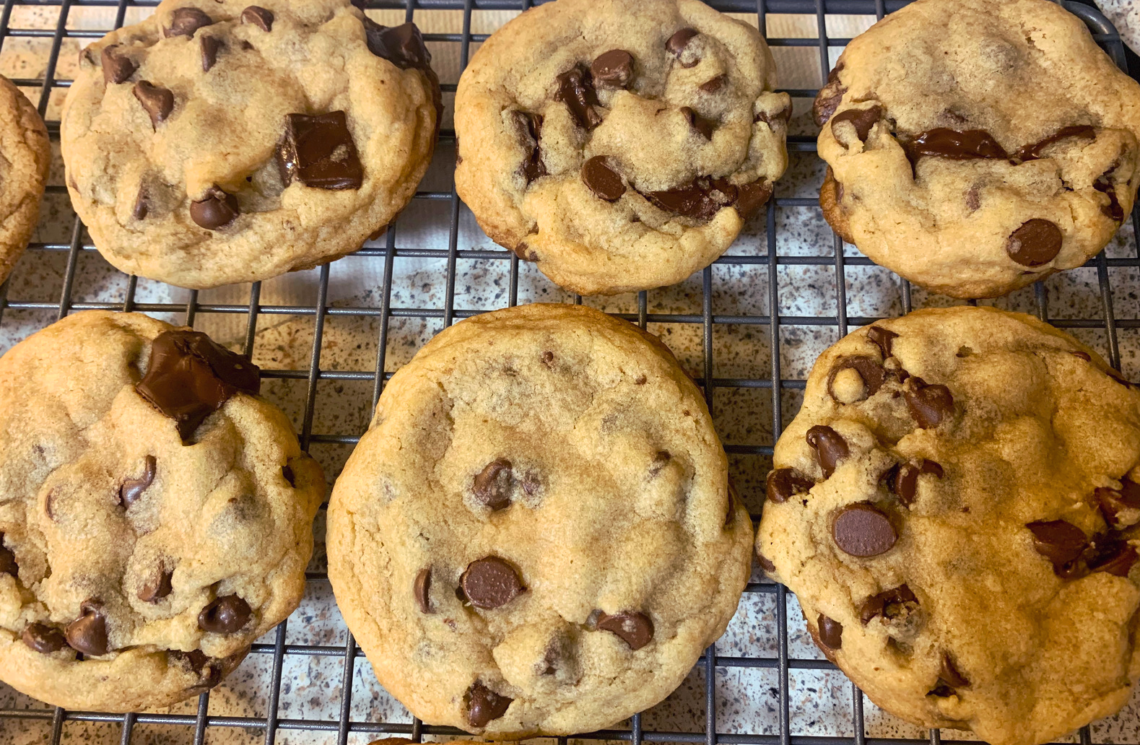 The Best Chewy, Gooey Chocolate Chip Cookie Recipe
As someone who's been baking since I owned an Easy Bake Oven, I've scoured through my fair share of chocolate chip cookie recipes on the hunt for the perfect one. After dozens of experiments, I've finally compiled a tried-and-true recipe for the best, GOOEY chocolate chip cookies!
If you're looking for a crisp, crunchy cookie, this is not for you! I'm a lover of chewy, gooey, melt-in-your-mouth kind of texture, so here are a few tips and tricks for achieving that perfect bite.
Why Do Some Ingredients Need to Be Room Temperature?
When it boils down to it, baking is a science.
When creaming together butter and sugars, it makes a difference when using cold or melted butter versus room temperature butter. The correct temperature enables tiny pockets of air to form. A chef explains that this method "keeps cookies thick, rather than spreading out." Stiff, cold butter straight from the fridge is impossible to distribute evenly, resulting in uneven dough with chunks of unincorporated butter.
Conversely, melted butter will not hold the oxygen required for the optimal texture and render an overly dense dough. I usually remove my butter a few hours before baking, but if you forget, you can microwave the butter in 10-second intervals watching carefully, so it doesn't melt.
Eggs are also another ingredient to keep room temperature for most baking projects for the ingredients to distribute evenly and to avoid a lumpy texture.
RECIPE: THE BEST, CHEWY GOOEY CHOCOLATE CHIP COOKIES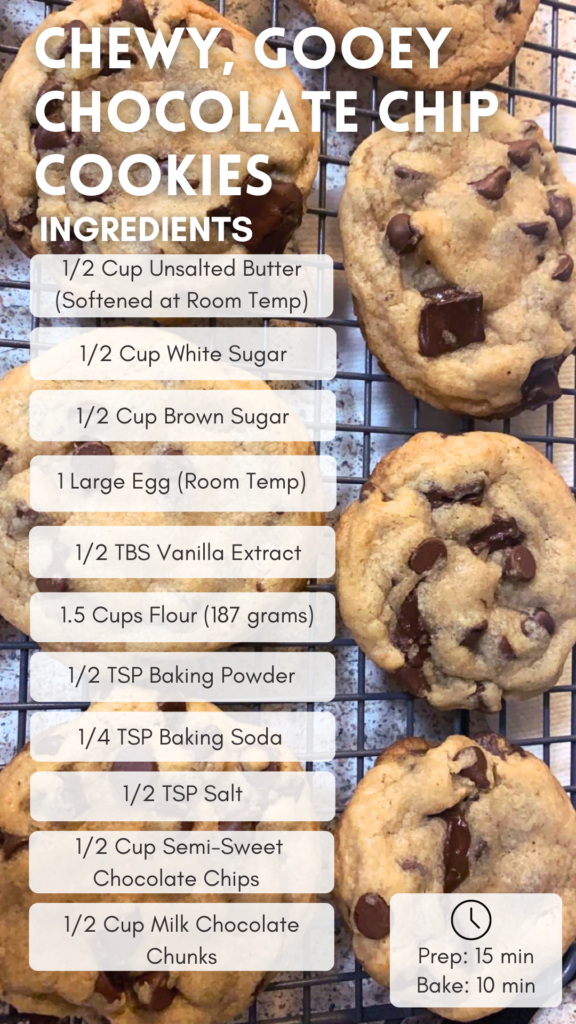 EQUIPMENT:
-Electric hand mixer
-Two Large Bowls
-Recommended: Silicone Baking Mat (If you bake often, get one! ) or Parchment Paper
-Baking Sheet
NOTES:
Serving size: 12-18 Cookies
You can totally just use 1 cup of semi-sweet chocolate chips, but the mix of chopped-up milk chocolate chunks is a match made in sinful heaven.
Varieties: Feel free to mix in your favorite add-ins such as sliced almonds, walnuts, Reese's pieces (favorite), or even just a dollop of peanut butter.
Secret: I always add a tad bit extra Vanilla Extract—being a little generous enhances the flavor
Tip: Be sure not to overbake these cookies! The key to achieving that gooey texture is removing them from the oven on time and allowing them to finish cooking on the rack.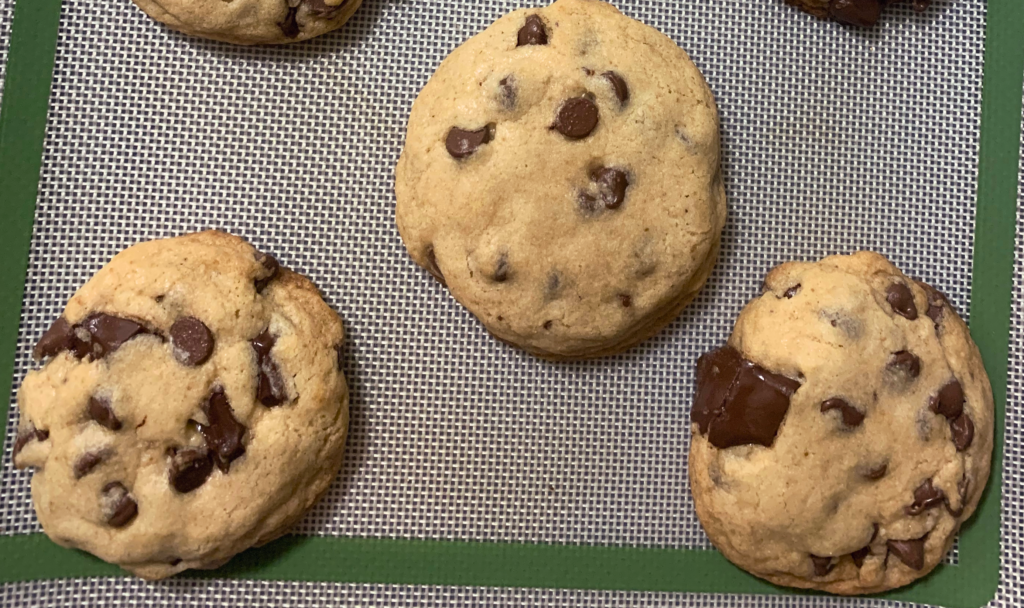 THE METHOD:
1. A couple of hours before baking, remove one large egg and one stick of butter from the refrigerator.
2. Preheat oven to 375 degrees F and line a baking sheet with either parchment paper or a reusable silicone mat (my recommendation for frequent bakers).
3. Knife off chunks of the butter into a large mixing bowl for easier ingredient distribution. (It's easier to cream together chunks of butter than one large chunk.)
4. Cream together the butter and both types of sugars until combined. The texture should look like pillowy clouds.
5. Mix in vanilla extract (I always add a splash extra for added flavor) and egg and beat together with a hand mixer.
6. In a separate smaller bowl, mix together the dry ingredients and whisk until incorporated.
7. Pour the dry ingredients slowly into the large bowl containing the wet mixture and mix until combined.
8. Pour in your chocolate chips and chocolate chunks and mix with a spatula or large spoon.
9. Roll dough into 2-3 TBS balls and place evenly on baking sheet–not too close together. Do not overcrowd!
10. Bake for 8-10 minutes until they are barely beginning to brown and remove them when they appear almost slightly underdone; trust me–this ensures a chewy, gooey cookie!
(Optional: Sprinkle with a dash of sea salt for added oomph)
11. Allow to cool directly on baking sheet for 2-3 minutes then transfer to wire rack to cool.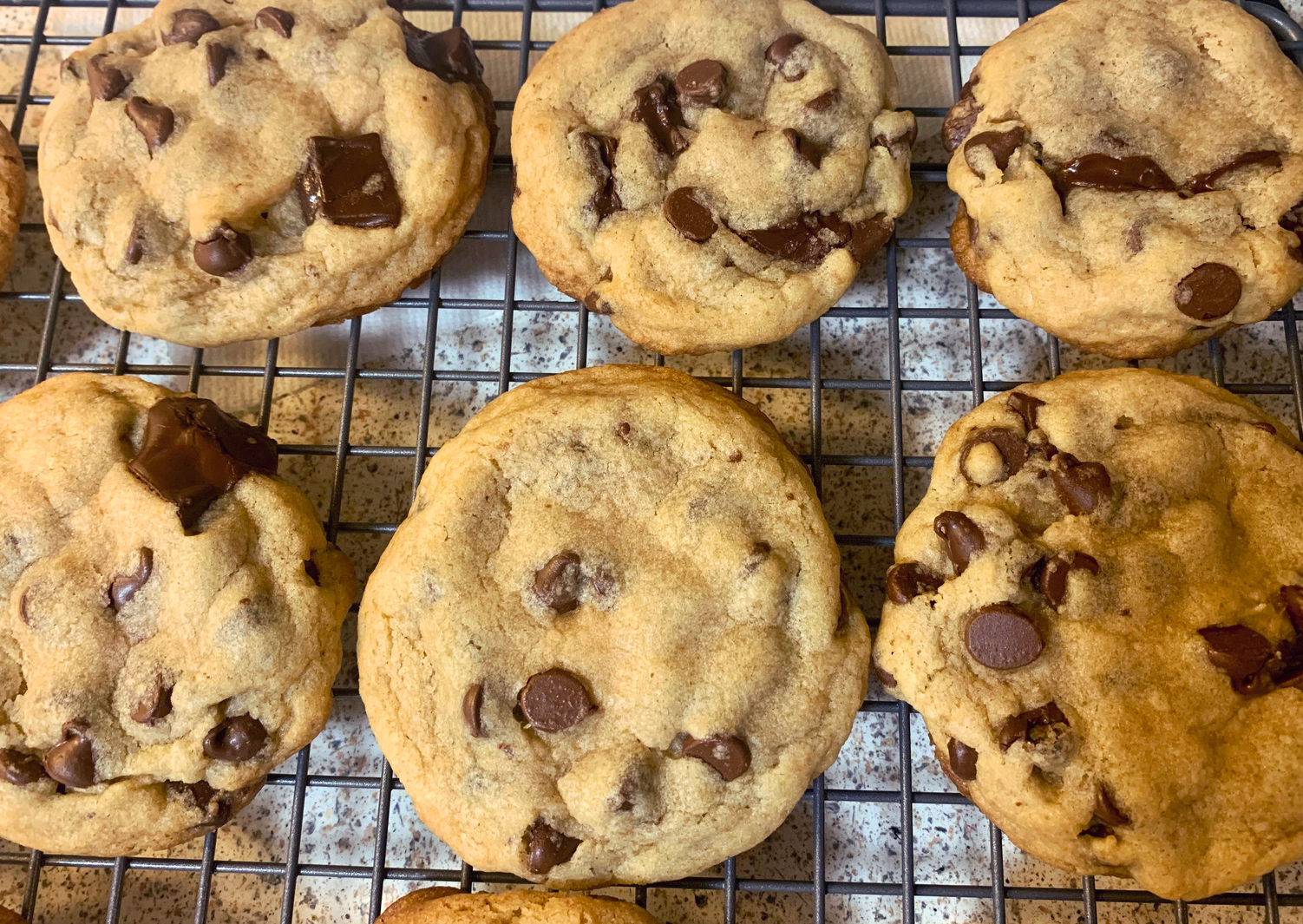 Romeo cannot eat any part of this chocolate chip cookie recipe, especially since chocolate is toxic for dogs! However, he does seem to find his cookie toy whenever I make these, so he's not left out! Don't worry, he gets a dog-friendly treat for being a good sous chef.