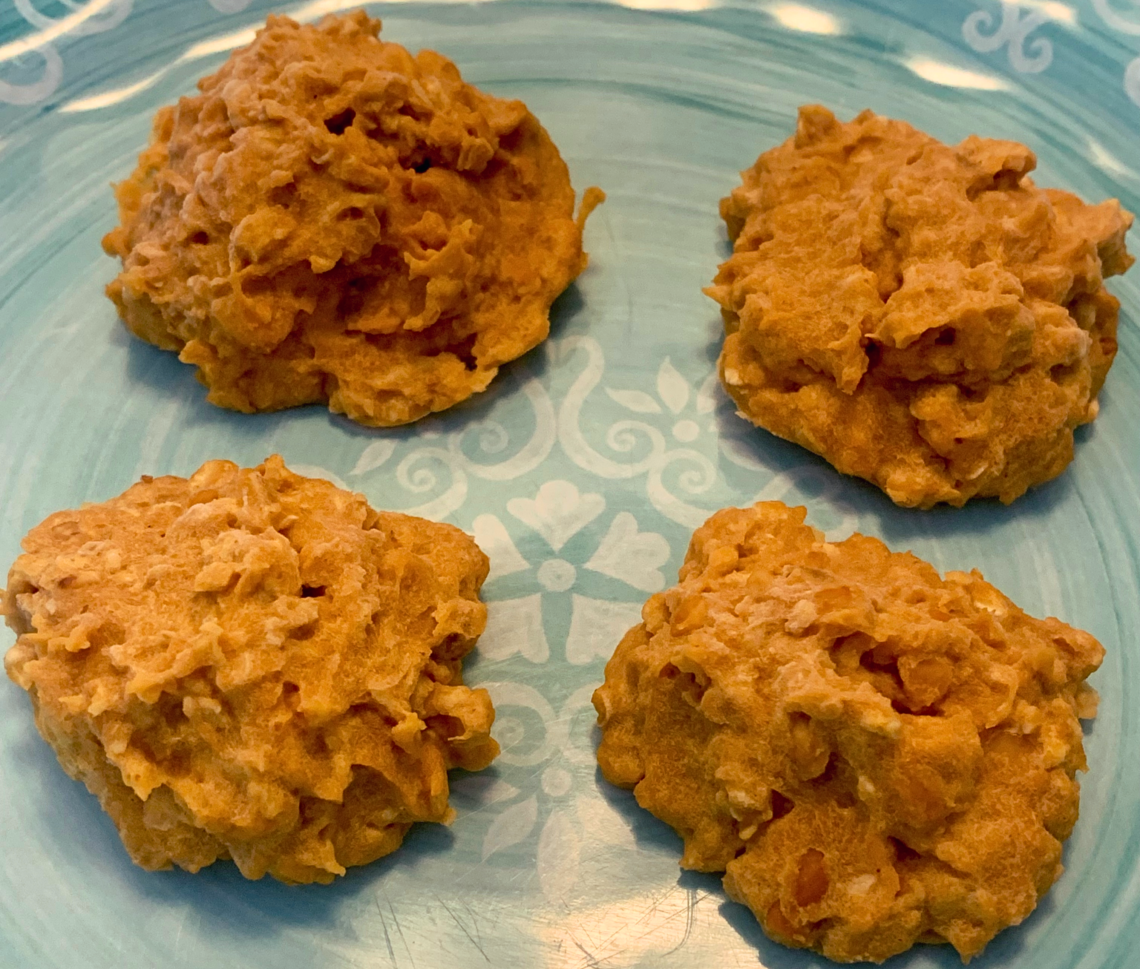 3-Ingredient No-Bake Pumpkin Peanut Butter Dog Treats
It was recently Romeo's birthday, so I decided to whip up an easy (and healthy!) no-bake pumpkin peanut butter dog treat he would absolutely love–the perfect gift for the pup who already has all the toys in the world! With only 3 simple, wholesome ingredients that may already live in your pantry, you can treat your pooch to a delightful dessert in no time.
This recipe consists of three dog-friendly ingredients: 100% pure canned pumpkin puree, peanut butter, and sugar-free or low-sugar oats. These treats also reap digestive benefits and are safe for pups with sensitive stomachs, just like Romeo, due to the canned pumpkin.
The best part of these no-fuss pumpkin peanut butter dog treats? No baking required!

RECIPE: No-Bake Pumpkin Peanut Butter Dog Treats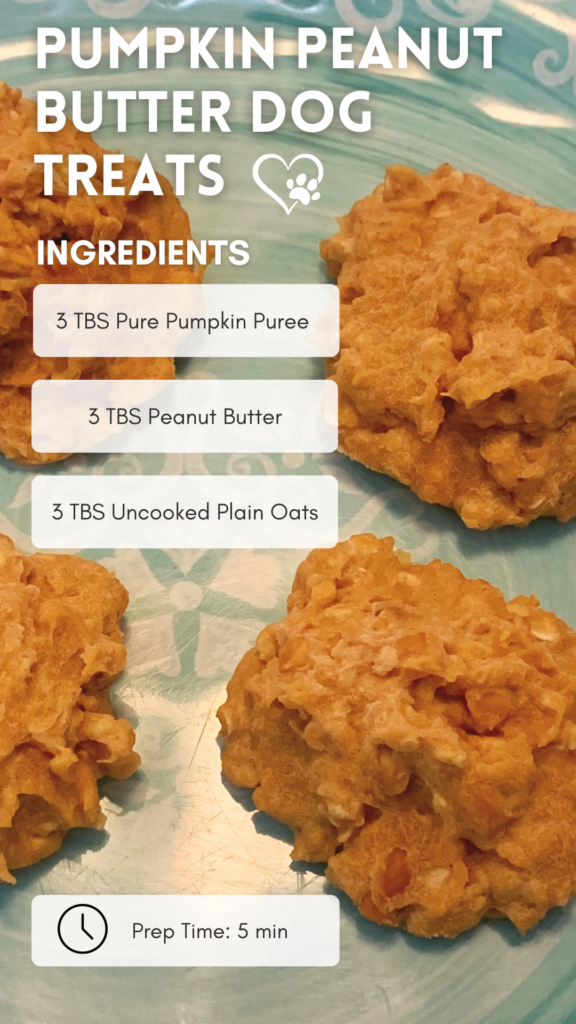 NOTES:
Double-check your ingredient labels and make sure your peanut butter is xylitol-free, as this is toxic for dogs! Read up more about what foods to avoid for dogs.

Use plain, pure 100% pumpkin puree and not pumpkin pie filling.

Use plain, uncooked sugar-free oats, or use a low-sugar variety. Since it was Romeo's birthday, he got a touch of flavor with a low-sugar variety with less than 4 grams of sugar. Do not use highly flavored or high-sugar oats!

This recipe only yields about 4-6 dog treats, since they are best consumed fresh, but feel free to double the recipe! Your pup won't be able to resist!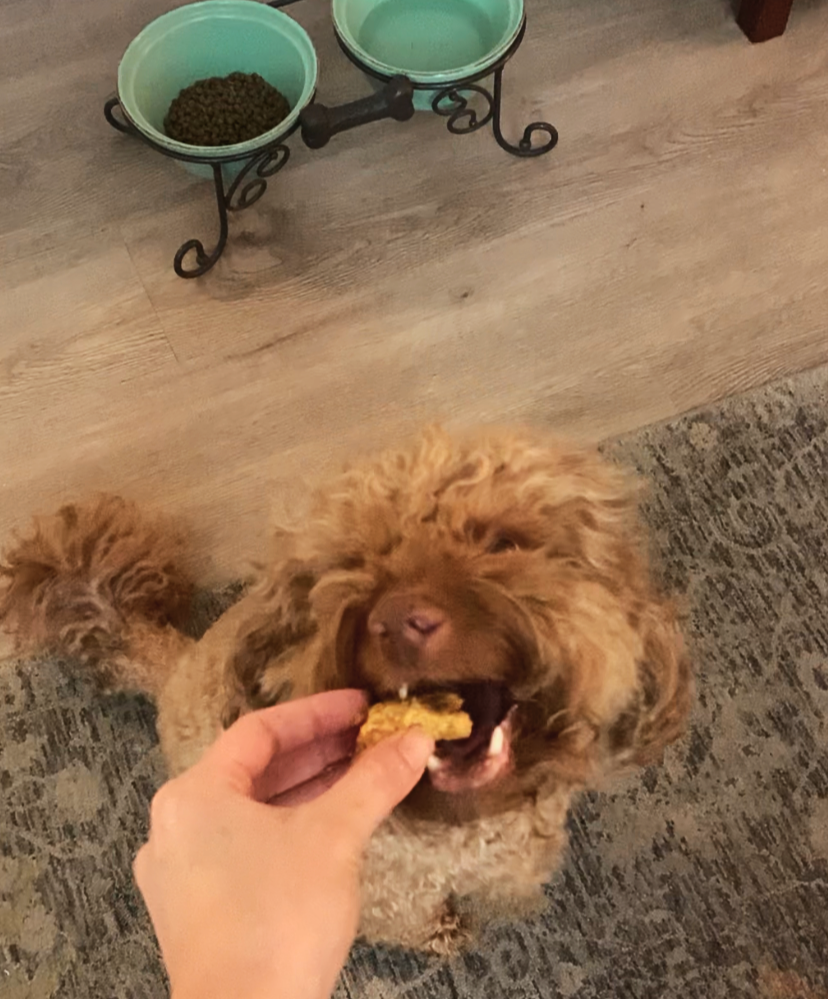 EQUIPMENT:
-Whisk
-Small Bowl
-Parchment Paper
THE METHOD:

1. Measure all ingredients in a small bowl and whisk until well incorporated and a batter-like texture forms. It will be sticky at first, but will harden and become chewy after freezing.

2. Scoop mixture into 1-2 TBS-sized balls and place on parchment paper-lined freezer-safe plate.

3. Freeze for at least one hour or overnight until treats have solidified.

4. Enjoy either cold or allow to sit at room temperature for 20-30 minutes to soften. Voila! No-bake pumpkin peanut butter dog treats.

Romeo was confused by the frozen treat at first…but once I allowed it to soften slightly and he got a taste, he devoured it right up and begged me for more. He was one happy birthday boy!